Having a swimming pool can be a wonderful privilege but it also comes with responsibilities. You cannot enjoy a pool that is not being taken care of, and nor can anyone else. Ensuring the water is clean and clear with the right chlorination, regular skimming, and checking up on your pool interior are some of the ways you can keep your pool looking great and ready for you to have a swim. Here we will look at these and other maintenance tips in detail to help your swimming pool be clean and long-lasting.
What regular maintenance should be done on a pool?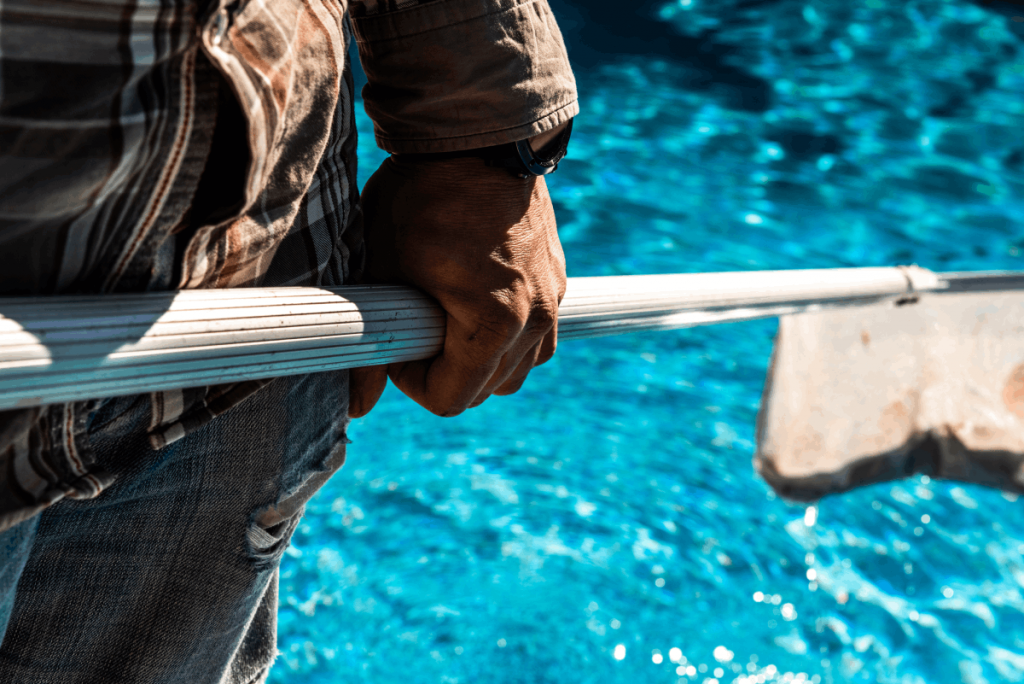 The exact regular maintenance your pool will need can depend on where it is located, the time of year, and many other factors. In general, there are a few key areas that you should be checking and considering regularly, so here are a few to get you started:
The water – it sounds pretty obvious, but the water in your pool is hugely important and must be maintained. You need to check the pH levels, chlorinate, and clean it often. Unbalanced chemicals can cause all kinds of problems for you and your pool, and no one wants to jump into something that is clearly dirty or has stuff floating around in it, so skimming for bits and bobs and scrubbing the pool are both necessary maintenance.
The pump, filter, and collection pots – there are a few places in your pool where hair, leaves, and all kinds of dirt and various things can gather. These need to be regularly emptied and cleaned to stop build-ups and blockages.
The pool interior – as mentioned you will want to give this a good scrub regularly. It is also important to keep an eye out for wear and tear, and keep it clear of debris.
There are many specific jobs and components that need to be regularly maintained, so don't be afraid to ask for help and guidance from professionals. You can carry out most parts of pool maintenance yourself, but if you need certain work doing you may find that it is safest and more effective to go to the experts.
How often does a pool need to be maintained?
Some aspects of pool care can be checked from time to time and acted on then, such as the aesthetics and any wear and tear to the pool interior. If you find your pool in need of doing up, a fresh new finish to replace flaking and wear, or just brightening up to look better than new, use a company like West Coast Pool Resurfacing to take care of it for you.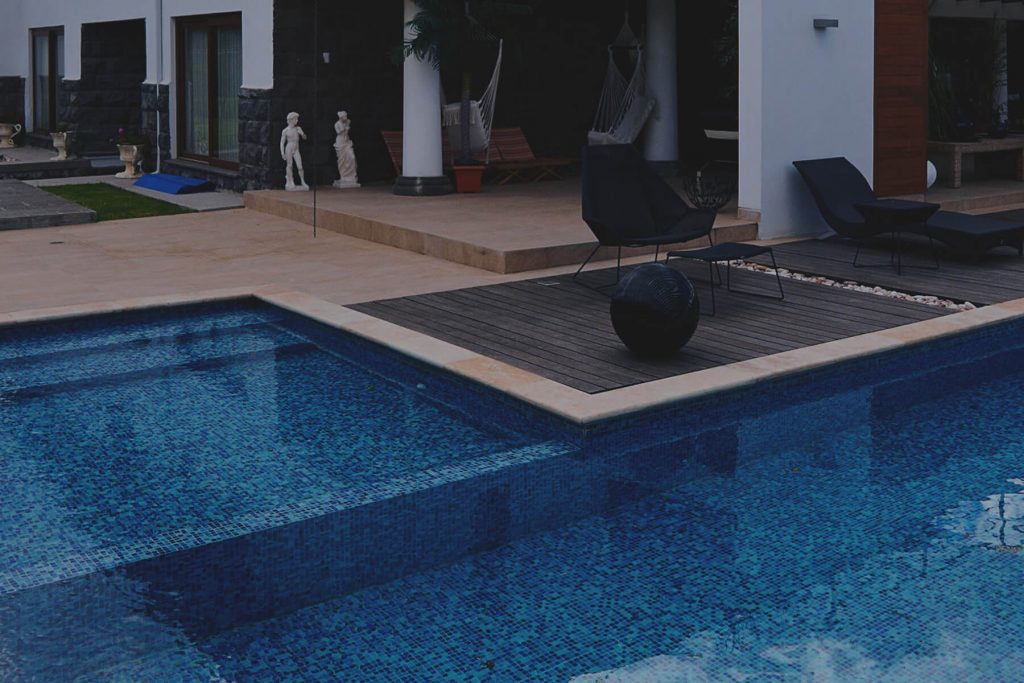 For regular maintenance, most pools will need doing once a week, sometimes more often. Your pool may need to be skimmed every day at times, like when the leaves are falling, to keep it clear. Scrubbing, however, you can do less often. Usually, once a week is fine as long as you do a good job and give the sides and bottom a thorough clean to prevent algae and other issues.
The water again should be checked at least once a week for the right chemical balance. The filter, on the other hand, usually doesn't need to be cleaned out nearly as often. You should keep an eye on it of course, especially after bouts of bad weather like storms, but every 3-6 months is usually often enough to clean this part of your pool.
How often should I run my pool pump?
Running your pool pump is an essential part of your swimming pool care. Without the pump, your water will sit stagnantly. Not only does the pump help remove dirt and grime from your pool, it also circulates the chemicals you have added to keep the whole body of water clean and clear. For cleanliness, you could easily run your pump all day long, but this would lead to unnecessarily high bills.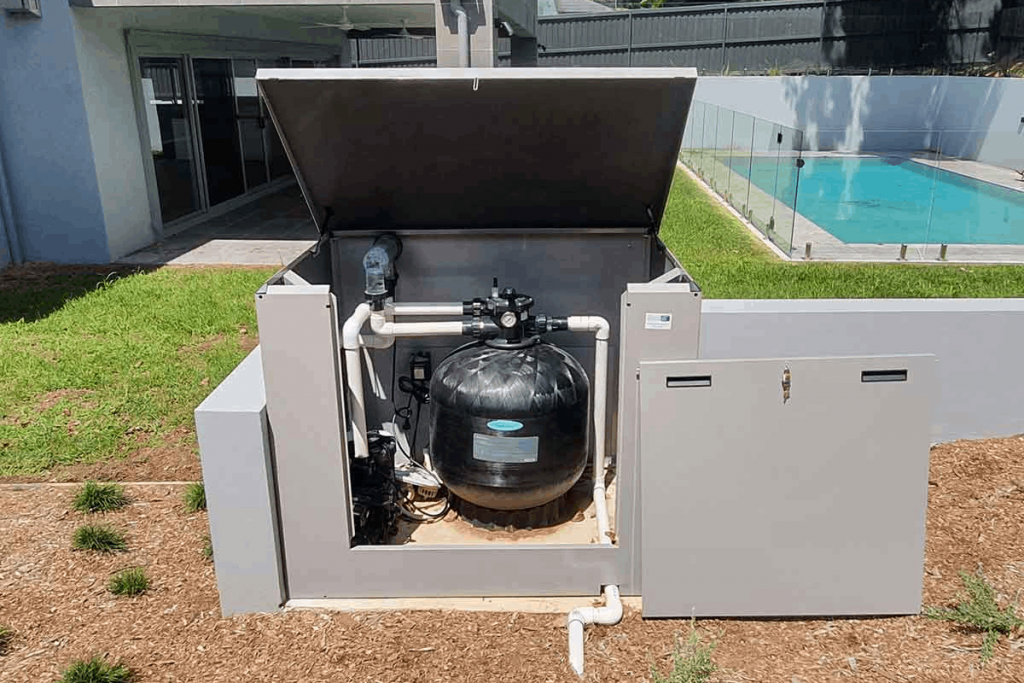 The rule of thumb is that you should run your pump for 8 hours a day. This will allow for the entire volume of water in your pool to be turned over. You can, however, get away with running it for less depending on the size of your pool and what kind of pump you have, along with a few other factors. If your pump is too small for your pool then 8 hours won't be long enough. If it has a quicker turnover rate then you can run it for less.
How often should I chlorinate my pool?
Exactly how often you should chlorinate your pool will again depend on several factors, such as whether you use it every day, how big it is, and how many people will be using it. In general, the recommendation is once or twice a week. You should test the water to find out if it has the right amount of chlorine in it twice a week and reacts accordingly.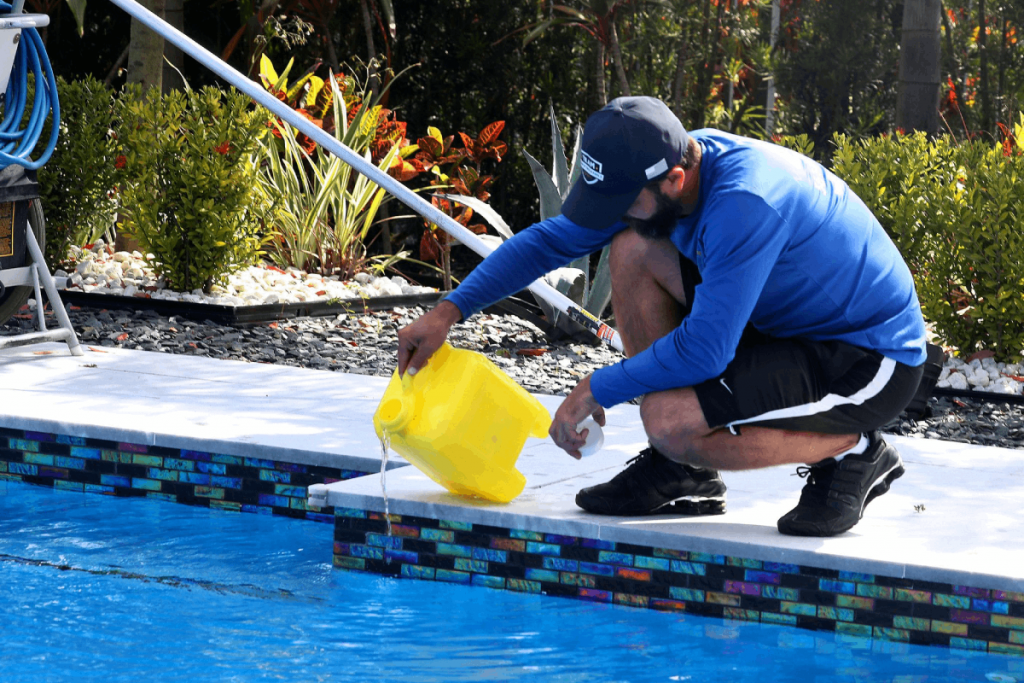 Some pools that are used less regularly may be chlorinated less, but remember that chlorine is essential for keeping your pool clean, and when there are more swimmers or even insects and leaves in the pool, your chlorine can get used up faster.
You should test your water more than once a week if the pool is used more than that, and your chlorine should be between 1 and 1.5ppm. UV rays and other factors can also use up or cause your chlorine to degrade, so keep checking and react accordingly.
Conclusion
Swimming pools are complex systems that can be impacted by the sun, swimmers, and a whole host of other factors. You should check on its cleanliness, chemicals, and clear out any potential blockages regularly. For the pool interior a good scrub will help to keep it looking good, but when wear and tear happens, or it starts to look shabby and dull, consider getting your pool resurfaced and soon it will look good as new.